Welcome to Center for Spiritual Living Minneapolis!
We start with the simple proposition that a Higher Power, known by many names in many different traditions around the world, is a force for good - not only around, but also within, every individual. Our doors and hearts are open to all seeking wisdom, inspiration, and connection. Does this ring true to you? Explore further with us.
Learn More
December 2023 Theme
Capturing the Spirit of the Season
December is a special time of year for connection, community, and care, and a time that reminds us to embrace the Consciousness of the Christ. This December at CSL Minneapolis we will Capture the Spirit of the season in a variety of ways that will surprise and delight.
December's Spiritual Mind Treatment
Recent Services, Talks and Extra Shots
Hear the latest.
Your generosity is changing lives
Simple and secure giving. Give one-time or schedule recurring giving using the options below.
Year-End Celebration Service/Brunch
At Rev. Debby and Jeff's Home
Join us as we celebrate the end of 2023 with a burning bowl ceremony and going into 2024 with an intention set in a white stone. And then we will gather for a joy-filled brunch. An email will be sent out as a reminder and will give directions. You are welcome to bring a dish or beverage. The Center will be providing an egg dish, coffee, and sparkling juices.
Register Here
Science of Mind Foundations Class
With Joan James RScP and Coleen Gregor
Ready to live life from a place of empowerment? To let go of unneeded fear, worry, and doubt? Join Joan and Coleen in exploring the spiritual principles and practices found in The Science of Mind textbook by our founder Ernest Holmes. You will be introduced to the basics of the Science of Mind, Meditation, Spiritual Mind Treatment, Visioning, and other practical tools to "change your thinking, change your life".
In addition to reading and writing exercises each week, there are guided meditations and exercises to assist you in applying, embracing, and incorporating Science of Mind Principles in your own life.
Bonus- you get to hang out with other like-minded individuals as we embrace life at a Spiritual level.
Starting Wednesday, January 10th for 10 weeks from 7:00- 9:00 PM
Location: Zoom- link will be sent along with the "week one" assignment the week prior
Cost: $75.00 including certificate- already have one? See Joan or Coleen
Required book- Science of Mind, The Complete Edition by Tarcher Penguin
Order from Amazon
Register for Class
Book Study
"The Basic Ideas of Science of Mind" by Ernest Holmes
With the seasons changing and the holidays approaching, now is a perfect time to remind ourselves of the basics. In his book "The Basics of Science of Mind" Ernest Holmes has condensed the main principles of this philosophy and given us a refresher course to anchor ourselves in the Truth and live the life we desire through conscious spiritual practice. There is no fee to attend this Book Study. A love offering to Center for Spiritual Living Minneapolis is greatly appreciated. "Beginning November 9th through December 21st, join us Thursday evenings at 7:00 pm CST via Zoom. For more information, and to receive Book Study reminders and Zoom link, email us at info@cslminneapolis.org."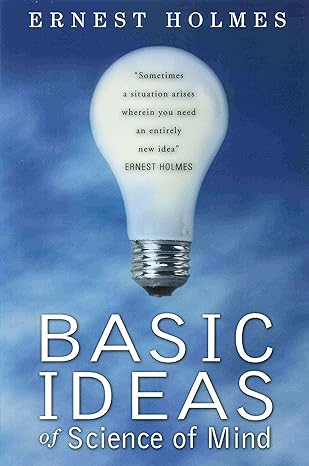 Order from Amazon
Sunday Celebration Services
Live In-Person Sunday Services At Brookview and Live Streamed here on our website,